Dear Friends,
I am still in awe of how you responded to my goal of raising $15,000! Thank you for taking the time to give, share my story with others, and even sending encouragement during my 100-mile ultra-marathon.
Heading into the day of the run, I was so close to reaching the goal! And it was exciting and encouraging to see the goal accomplished just a few hours before I began the run. Knowing that enough money was raised for a man in need to enter No Longer Bound provided such a deep gratitude in my heart — it's hard to explain.
No Longer Bound will forever have a special place in my heart. It's where I met Jesus. It's where I became fully known. It's where I was called out of darkness and loved just as I was. It changed everything for me. I went from being completely hopeless, suicidal, and deceived to a place of forgiveness, experiencing freedom and the unconditional love of Jesus Christ. It was the hardest journey I've ever been through, but it was also the most rewarding. Jesus used No Longer Bound to change the direction of my life.
So how did the run go?!?
On so many levels, it was a success. And … it was incredibly challenging to just put one foot in front of the other. The day began with a circle of prayer. Over half of the run was completed in the dark with headlamps and a light vest. Spirits were high and support was strong! Forty people participated in this journey with me. Seven of them ran further than ever before, and I was never alone during the entire run!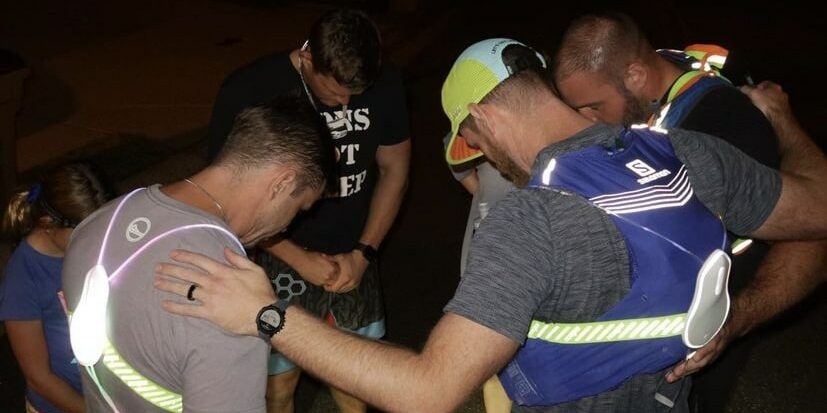 Over the past nine years, I have practiced many skills in recovery that helped me during my run! I'd like to share a few with you:
My Thoughts: At times I experienced intrusive thoughts, and it was crucial to voice those to the people around me and allow them to speak truth and encouragement into my journey. Awareness that they were just thoughts and not truth helped me recognize that I had a choice of what to do with them.
Patience was a must during the beginning of the run and as the real test came during the last 30 miles.
Humility and discipline were helpful, as I walked most of the hills and periodically throughout the run. When operating out of my pride and ego, I care so much about what others think. Pride and ego are dangerous in a journey such as this.
Honesty and integrity were valuable as I updated those following my journey. As I neared the end of the run, there was a difference of over two miles in my Strava Tracker and my Garmin watch. I wanted to go with the higher mileage, but I know the importance of being known and doing the right thing.
The last 15 miles were by far the most difficult, mentally. I started to feel the exhaustion, and it was hard to engage in conversation. But I was taken care of by dear friends and encouraged to the end. Cold water and Krispy Kreme doughnuts have never tasted better in my life. Worship music felt like a superpower as it reminded me of all the times God has been faithful along my journey.
Two of my favorite parts of this run were running with the No Longer Bound residents for 12 miles and finishing with my wife and daughter. When I showed up to No Longer Bound at 5 a.m., I was pumped to cross the halfway mark with 13 people by my side! The residents provided a huge encouragement to continue the journey.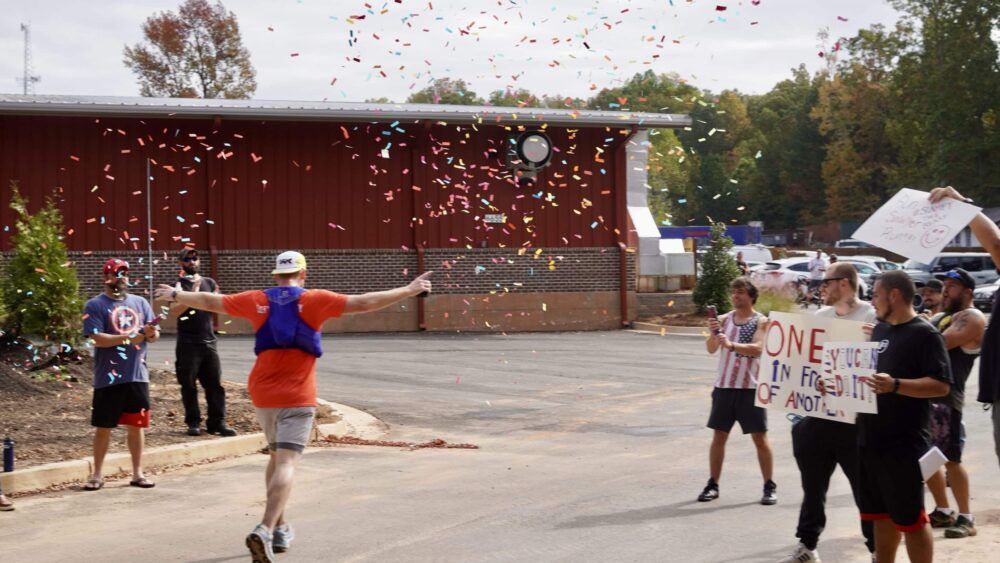 After a hot afternoon stretch, I was able to meet my wife and daughter to finish the last mile! I was met with friends and family at the finish as I tried to process it all.
Through all the highs and lows, a lot of lessons were learned. I am grateful for the memories made and joy shared. Thank you for being a critical part of making it possible for a man to experience freedom from his addiction. In total, we raised over $39,000!
God bless!
Sawyer